When should I book my newborn session?
As soon as you know you want to hire me to do your newborn photography! I usually book new born sessions months in advanced, tentatively based on your due date. However, as we all know, babies rarely come on schedule! As soon as your baby is born, or if you find out you are having a scheduled delivery, get in touch with me as soon as possible and we will firm up a date and time for your shoot. Newborns are best photographed within the first 14 days, of their little lives when they are most sleepy, and less likely to have baby acne and colic.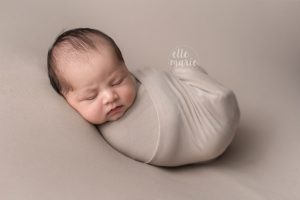 Where will our newborn session happen?
I offer newborn sessions in my studio located in downtown Whitby, or in the comfort of your own home. The benefit to coming to my studio is that I have great lighting, I have access to all of my blankets, wrap, and the props I use. I can't bring everything to your home, and in-home sessions tend to work more with your natural light and the environment in your home, creating more of a "lifestyle" session, than a posed studio session. The choice is yours depending on what look/feel you are hoping to get from your session. I love doing both! If you are unsure which kind of session would best suit you, I suggest reading this blog post I wrote!
How long is a newborn session?
Typically a newborn session averages about 3 hours, but entirely depends on the baby. Newborn sessions, particularly lifestyle sessions, can take 2 hours, or a more posed formal session can go on just over 3 hours. Either way, we follow baby's cues and stop for feeding, calming, and cuddles as needed.
How do I prepare for our session? (for clients coming to my studio)
Try to plan to feed baby either right before you leave home, or when you arrive. Of course babies have their own plans and demands, but if we can aim to start the session with a good feeding we are most likely to get the baby relaxed, content, and sleepy for posing!
Please also bring a soother. These can help a great deal to pose baby. If you are against the use of a soother please understand it may be more difficult to pose baby, however I will always do my best! The studio is very warm for a newborn session, please be prepared by dressing in layers so you can take off a layer and wear a t-shirt if you are too warm!
How do I prepare for our session? (for clients doing at home sessions)
A full and sleepy baby is a happy baby! Do your best to try to plan to feed baby starting just before I arrive. Please make sure your house is extra warm. About an hour before I am to arrive, turn up your heat a few degrees. It will ensure baby is comfortable for all of the unclothed photos we are about to take. When doing an at home session, I typically look around your home for the best lighting and photographic opportunities. Don't be surprised if we end up in your bedroom. Make your bed, but don't feel like you have to clean your house for me at all!
Please also keep the number of people at your home during the shoot to just the immediate family who will be in the shoot. Inviting of grandparents, aunts, uncles, etc. creates a louder, more chaotic environment and from my experience, never goes well for the shoot.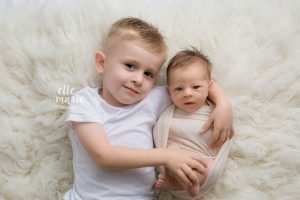 What about siblings?
If you have a siblings that you would like to be included in a couple of poses, no problem! Bring them along, and we will begin our session with sibling/family poses. Once we are finished photographing the sibling(s), I strongly suggest dad taking big brother/sister out for lunch or to a nearby park. This helps keeps things calm and quiet for the remainder of the session. My studio is small and hot, most toddlers would go stir crazy!
If we are photographing in your home, we have more flexibility for sibling to go to a different area of the house to play with dad while we are photographing baby alone.
What should baby wear?
I do most newborn photos wrapped in special wraps I have, dressed in outfits I have at the studio, or nude. If the session is taking place in your home, I recommend well fitting, simple and plain onesies. White is a popular choice.
What should the rest of us wear?
Dress in clothes that you are comfortable in. We look and feel our best when we are comfortable! I recommend solid colours, usually neutrals, blacks, light pastels are great in new born sessions. T-shirts are often a great choice. Do not wear anything with logos, words, sayings, or graphics and keep any patterns to a minimum. Keeping it simple will help to keep your photos timeless!
Can I bring my own props?
My photography style generally does not include a lot of props, however, please feel free to bring an item or two if you have something that has special meaning to you. Photographing baby with a special blanket or hat knit by grandma is always special. If you have any ideas like this, please try to let me know in advance so I can plan it into our session and think on how to make it best work!
You want to take off babies diaper? She's going to make a mess of your blanket!!
Don't even worry about it! This happens ALL of the time and I am prepared and even expecting it! Don't feel embarrassed or the need to clean up!

©2022 Elle Marie Photography